Months ago, I saw broken jello glass for the first time on Food Librarian. I'm not really a Jello fan, but these looked so cool, I had to try it! It can be made in just any color combination, making it a great dessert for a themed party. If it's an adult only party - the addition of Vodka to the Jello would be devine!


Image from Food Librarian
I used the directions from
Food Librarian
. I used Berry Blue and Peach Jello for a blue and orange themed party I styled with a pal.
Ingredients
4 small boxes (3 oz. each) of
Jell-O
or store brand "gelatin dessert" in different colors.
1 (14 oz.) can sweetened condensed milk (NOT evaporated milk)
2 envelopes unflavored gelatin (by Knox - I had a hard time finding this, but it's displayed right next to Jello)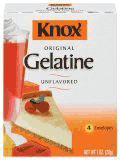 For each flavor, dissolve one box of jello in one cup of boiling water. Pour into a container and chill (overnight is probably best, but I chilled it 3 hours until firm). I used 8x8 brownie pans.
After chilling the four flavors, cut them into small blocks. Next time, I will make the blocks slightly bigger. Carefully mix the blocks in a 9 x 13 pan.
In a separate bowl, sprinkle 2 envelopes unflavored gelatin into 1/2 cup cold water. After the gelatin blooms, add 1 1/2 cup boiling water and dissolve. Add the can of condensed milk. Stir and cool. Pour cooled milk mixture over jello and chill overnight.
When I first poured the condensed milk in
The next day when I took it out of the fridge
Cut and Serve!
It's very easy to make and it will impress all of your friends and family. You do need time for the Jello to chill, so you do have to plan it - it's not something you can make a few hours before a party.
Enjoy!